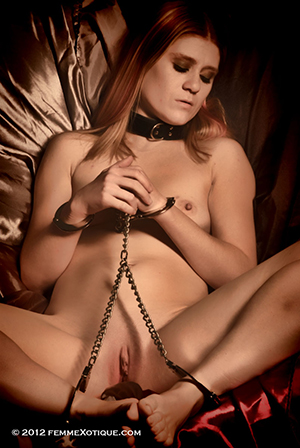 29 photos
Some models just love to be abused. Not so for Azkadelia. Her deal is restraint , submission ... and complete lack of inhibitions.
So, we shackled her, put her into nipple clamps, put clamps on her pussy lips ... and handed her the longest vibrator she'd ever seen.
As a clear indiction that Azkadelia will do whatever you say or push her to do, she started off rather modestly. A few nudges and her legs were open. She rubbed the vibe over her clit, enjoying herself waaay too much. Some tickling had her squirming. And finally, she jammed the vibe inside her.
Eventually, we took it away from her and sat her up in the chair. Then, she got to relax a bit, but wasn't allowed to cover up. In fact, we made her spread her lips to show us where that vibrator had been.
All in all, a fun time with a little exhibitionist.
© femmeXotique.com
All rights reserved