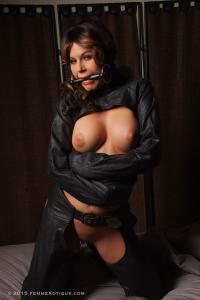 28 photos

Real pros make your job easier in so many ways. They show up on time. They don't whine and moan. They get the work done quickly.
And, in the case of Stormy Evans, she brings some of the most flawless skin you've ever seen.
As usual, though, this being femmeXotique, we had to do something other than straight-up pretty pictures. So we dressed her up in leather chaps and a leather strait jacket. Perfect. We got to see her pretty face, pussy and breasts. And she could not do a thing to hide herself.
Yep, time to stand her up by the French doors and open the blinds. Let the neighbors have a look at what she looks like essentially naked. After a few minutes of this, we heard the school bus letting off kids, so it was time to turn the dungeon back into a cave.
All along, Stormy knew exactly what to do. She posed and primped beautifully, even when she had to practically swallow the bit gag. Our amusement continued as she tried to hold back the drool. You knew it was gathering, but she gamely tried to keep it in her mouth. Finally, seeing her struggling, we told her to put her chin down for a real submissive shot. Bang, got it. Drool came rolling out, and her consternation was clear. Guess it didn't help that we laughed at her. But that's how it goes.
Stormy hung around for another set for femmeXotique and then a naughty one for our soon-to-be sister site, so you can look forward to more of this lovely lady.
©2015 femmeXotique.com
All rights reserved