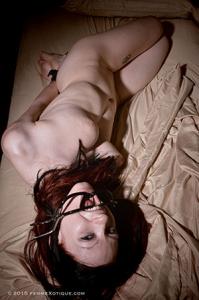 25 photos
Sometimes you just stumble into such a lover of bondage that the entire shoot is a celebration. Tie her tight, she grins. Stretch her out, mess with her, put clamps anywhere you like. She practically purrs.
That's the way it was with Kajira, a lovely little wisp of a woman from Colorado. Whip out any of the rope, cuffs, leather, locks. She loved it all and apologized over and over for "ruining" shots with her grins. Ha! What's wrong with showing off a woman who truly loves what she's doing?
So we played around and discovered more about her as we went. The tight elbows behind the back wasn't exactly easy, but she loved the feel of loads of rope on her arms. That led to our final tie in this series, with her legs completely laced. That was her idea. As she was lying there, utterly unable to move, she spied something on the other side of the room ... and our shoot took a hard left turn.
That's what you'll get when we revisit Kajira and delve into her deeper pleasures.
© femmeXotique.com
All rights reserved