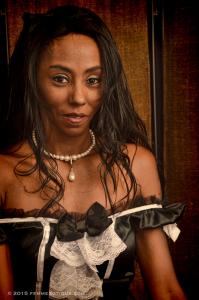 34 photos

As you might guess, there are a lot of things Justice Lee doesn't do very often. She's usually doing charity work or pinup posing for local photographers. Nudity? Nah. Bondage? Are you kidding me? Vibrators? No way. Gags? Forget it.
Then there was the day she came to have a femmeXotique shoot.
We started off slowly with that cute as hell maid costume, but eventually we had her down to the mesh and lace panties, with a chain and leather top in place of the tiny dress. Her breasts were put on special display with nipple clamps and bells.
At this stage, she was still her talkative self, but once we had her roped to the bed with clover clamps replacing the mild ones, she was surprisingly quiet. Well, maybe not THAT surprising. That gave us the chance to try out all those things Justice Lee doesn't do. Can't say she exactly enjoyed the experience, but she promised to come back for more.
We'll see.