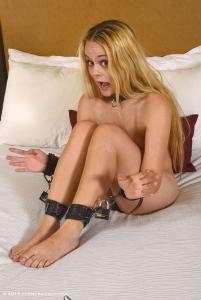 45 photos
Open up a bag of leather and chains in front of Jin n Tonic and Jordan Bunnie, and you open up a bit of heavenly mayhem.
The two enjoyed their time playing with the various bondage implements, as Jordan took on her naturally more submissive stance and Jin got to boss her around for awhile.
Obviously there's nothing serious here, but Jin did get in a few good whacks with the crop, and Jordan got to feel herself hugged both by leather (a strait jacket) and by Jin.
All in all, it's good fun to watch a couple of young ladies exploring each other, fetishes and exhibition.