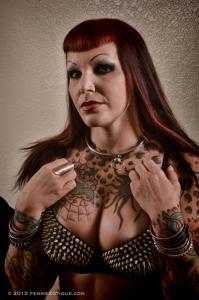 55 photos
When Vixon came to femmeXotique, she was literally learning how to be a fetish model. Not that she needed a lot of coaching, but she hadn't been tied up before, she hadn't felt a lot of the bondage/fetish gear.
By the time she left, she'd had a taste of a lot of stuff. Rope? Yes. Handcuffs? Sure thing. Clover clamps? Most definitely.
On and on it went.
She also was a bit modest at first, not quite sure what to make of the fact that we never let her wear panties the entire time. Her breasts were covered for awhile, but only because she brought that really cool, spiky bra. That's got to be worth a few frames.
By the end of the shoot, we had her pulling on her pussy ring, stretching her lips for for display. What a difference a visit to femmeXotique makes!