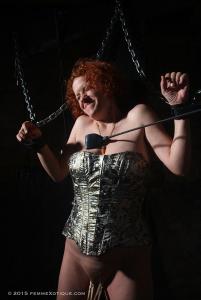 39 photos
Sometimes you get a victim who's so expressive, you just want to shoot forever. That was the case with Gypsy.
At the beginning, she thought this was going to be easier than the punishment we had given to her tits (see earlier set). What's a few clothespins on the pussy, anyway? When I turned around with the riding crop, she froze ever so slightly. All it took was a few strokes right on those pins for her to know what she was in for.
"I should have known you had something up your sleeve," she said between labored breaths. I just grinned. And smacked her pussy again. Pretty soon, she was grinning like an idiot, just going with the pain and kind of enjoying it.
After a few minutes of that, though, she began to get sensations running all the way up her body as her pussy was pummelled over and over. You can watch as the expressions change from silly grins to serious grimaces.
Finally, she could take no more, so we left her hanging.
Thanks, Gypsy.