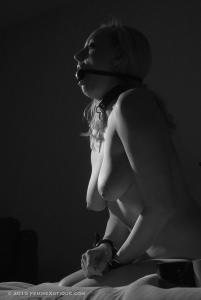 41 photos
Jenifer blew into town with a lot on her schedule, enough so that she wound up being late for our shoot. A most polite young lady, she then made every effort to make up for her tardiness.
Out of her bag came loads of fetish gear, from which we would choose her various torments (or augment the ones already planned for her). Her leather gear went nicely with her nearly perfect skin and figure. If it weren't for a couple of tiny imperfections, you'd have thought she came out of a catalog for perfect models.
Within minutes, she was hanging from over-the-door restraints that another model purchased for just such situations. She turned out to be a messy girl because her ring gag almost demanded a load of drool down her chest.
With so many nifty toys and such a gorgeous victim, time flew by ... and she got to enjoy a happy ending to the shoot.
Who knew things would turn out so well when the model was late?