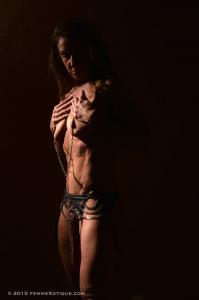 27 photos
Jackie Irish showed up at femmeXotique all ready for a romp in the desert. That's what we did for the first few hours. But then we brought her indoors for a brief fetish workout.
Using clamps on her pussy and nipples, a leather-and-chain garter belt and some up-close-and-personal shots, we got her totally in the mood for submission.
While she isn't usually a fetish model, she's had lots of experience with showing off that muscular body and her rather prominent assets. That led to some show-and-tell at the end, where she just bent over and let it all hang out.
Then we rolled her over and got her involved in some serious spread shots.
All in a day's work for this model, but still lots of fun for the rest of us.