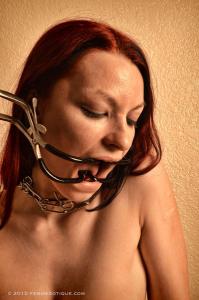 32 photos
When last we saw sweet little Kajira, she was lying on the bed, legs roped and ass in the air. What an inviting target.
So, of course we had to see just what that ass could do. First came a large butt plug. She almost got it all in ... and took it home when she left, vowing to train her butt to accept it.
After that bit of fun came the glass. Glass is cold and hard when it's shoved up your ass and into your pussy. So we got lots of moaning and shivers from the little lady. Even with her hands cuffed, though, she managed to maneuver the glass in and out while she was photographed.
A little spreading of her sweet cheeks helps us see all the details.
The aftermath of all this, including a session just with the glass dildo in her pussy, left Kajira panting for more. So we gave her some "me" time. That doesn't mean we stopped photographing her.
Finally, she got to enjoy a dental gag, which looked just lovely on the spent young lady.