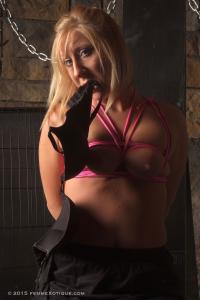 29 photos
Poor little Crystal Frost. She just couldn't get away. Every time I thought we were done, she saw something else she liked.
This time it was the thin pink cord. Of course.
We'd already done the paperwork. The camera was put away. The lights were in the process of being turned off. In short, the dungeon was pretty much closed, kaput, finis.
When it comes time to take pictures of a damsel clearly in "distress," the camera comes back out of the bag, the lights are repositioned, and the rope is tied tightly around Crystal's breasts. Just look at those cute little things (well little when they're tied). I could hold them in one hand, that's how tiny they were with the cord pulling them inward.
Still, no white knight showed up for Crystal. She had to endure everything in the dungeon, no help from anybody.
Crystal just suffered a bit and wondered why she ever got herself wrapped up in it.