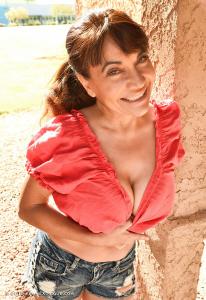 43 photos
Carina Luv blew into town in a big hurry. She came and did her art nude shoot and was ready to head off to another. But the other one didn't materialize.
Soooooo.... We offered her the opportunity to make use of the afternoon. The delightful little lady said yes, so we got ready to go out. The first picture is how she dressed to go out in public. Yeah. Obviously the lady needed training.
Well, we went on our errands, got some lunch and headed back to the scene of her crime.
First things first, I told her, a I set up a camera to capture what she had in store. Not sure what to expect, she sat still and awaited her punishment.
That turned out to be spanking and humiliation, in an attempt to tone down the woman's tendencies to look trampish in public. Sure, it's fun and everything. But who's going to take a serious milf seriously when she's dressed like that?
Did the session work? We'll only know when she comes back to town. If not, perhaps she'll need a harsher lesson next time.