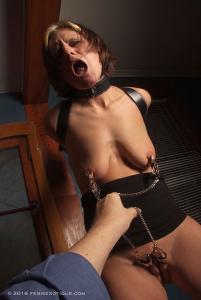 46 photos
When you don't know what to expect from a BDSM shoot, you're fair game for all sorts of fun circumstances. Calista was game. She'd seen what we do and wanted to learn all about it.
For our parting gift, we gave her a mix of pain and pleasure that left her winded, sweating and happy.
Funny how it goes. String a woman up, leaving her helpless and uncomfortable. Add some clover clamps in strategic locations. Remove clamps after having some fun with them. Apply vibrator to now-tender parts and watch what happens.
Calista, however, finally zoned out. She wasn't getting over the top anymore. Try as she might ... and she DID try mightily ... she couldn't quite reach orgasm. Who said orgasms are easy after you have had hours worth of them?
Surprisingly, the thing that pushed her was removing the vibrator and replacing it with fingers to stretch out her pussy, giving her some release from the relentless pounding. Then, and only then, was she able to bear down on the vibrating wand for one final, huge orgasm.
A little tender (or not so tender) touching was all it took. Who knew?