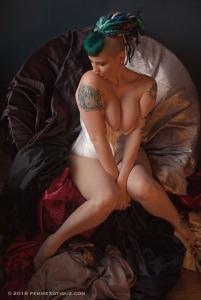 30 photos
We don't get to see Scarlite Marie very often, but when we do, we find it imperative to get her in front of a camera.
There's no telling what her hair will be like, how much ink she'll have added or whether, impossible as it seems, she'll be even hotter than before.
So, these are a bunch of photos taken between her more severe workouts, which you'll get to see later. The hogtie ropes, hooked to the ceiling, kept her squirming and trying to find a comfortable spot. Of course, that was going to be impossible, because the other end of the rope was firmly in my hand, allowing me to adjust tension and make things ever more untenable for her.
Finally, she proved that even silk rope can have its bite by the red marks on her wrists.
Then, we had her wrapped in the rope, accenting those lovely breasts. And looking ever-so-chaste in a white corset.
All the while, she was keeping her eyes on the instruments arrayed for her "benefit" as the day wore on.