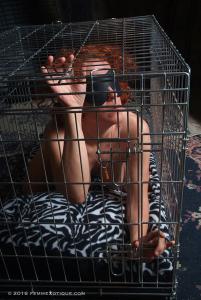 33 photos
We met Gypsy awhile back. She was going by a few model names, but Caged Gypsy was one of the faves. That played right into our hands.
The little redhead didn't mind the blindfold. She didn't even mind the challenge of getting into the cage AFTER we put on the blindfold. Once inside, she only knew by the sounds of the camera and strobes when photos were being taken. She couldn't tell from exactly where, or exactly what we were shooting.
All that undertainty led her first to start sucking on her fingers. But at that point she had curled her legs up tightly. So, we asked if she could suck her toes. "Don't know. I never tried." "Well, try." ...
Turns out she could suck her toes. And since Newton's Law applies to lots of things, the equal and opposite reaction was some of the best pussy shots of the weekend.
Here's hoping you enjoy Gypsy as much as we did. There's still one more set, but that's for later.