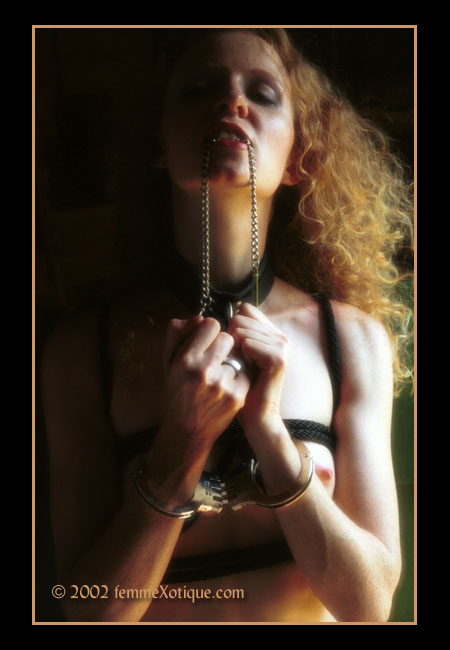 20 photos

She came from the wide-open spaces of Texas, only to find herself cuffed and cornered in a centuries-old barn in Virginia. Jenni Fay knew she wanted something artistic, something fetishistic and something erotic. especially erotic. So, we worked on all three. First, she needed to be in the right frame of mind. For that, we started with a torso wrap with the black rope, making especially certain that she could feel it tugging on her tender labia.
Some gigantic nipple clamps, to tug first on those strawberry-colored nipples, and then to distend the swollen labia. All the while, she was perky, having a good time, enjoying each new sensation, even to the point of tugging on the clamps when her hands were freed.
After a particularly heartfelt bit of aggressive behavior, it was time for a little punishment. She had never felt the sting of a lacquered cane.
Until now.
Again and again, she took strokes across her ass, eventually leaving red marks and welts. Still, she smiled. Next, we went to the spreader bars, keeping up the attention on her labia. But mostly, just spreading her open and leaving her truly helpless. After a few minutes of this, she was still smiling, but it was a wiser, wistful smile. "Do your models ever just give up?" she asked. A few frame later, the answer was "of course."
Slowly, she nodded her head in understanding. But now, the smile was so broad she couldn't contain it. With the upper spreader bar hooked on the barn door, she could not move a muscle. And she liked it. So, out came the plug gag, so she got a five-inch butt plug jammed down her throat, just to see how happy a gal can be with her mouth full of latex. Yep, the eyes of a former Texan were watching intently as the scene continued. She seemed to know there was more. And she was right.
© femmeXotique.com
All rights reserved.