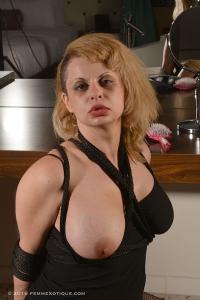 17 photos
She goes by London, and she's a little firecracker. Fun, funny, witty and ... well ... slow.
Guys, we all know how annoying it is to be sitting around waiting for the lady to get ready to go out. Multiply that by 100 and you get London. She's going on about this and that and brushing her hair for the 100th time. I get it. She wants to look good for her pictures. But at this rate, there won't BE any pictures.
The solution? Grab some rope and tie her up right there at the makeup table. Wrap those magnificent tits and perk up those nipples. Expose her for the world to see.
Oh, yeah, and then use a fist full of clothespins on her so she can remember we're in a pinch for time.
Of coruse, we got some shots of the little lesson.
Still, I think London is going to need a lot more training. And that's going to be lots of fun.