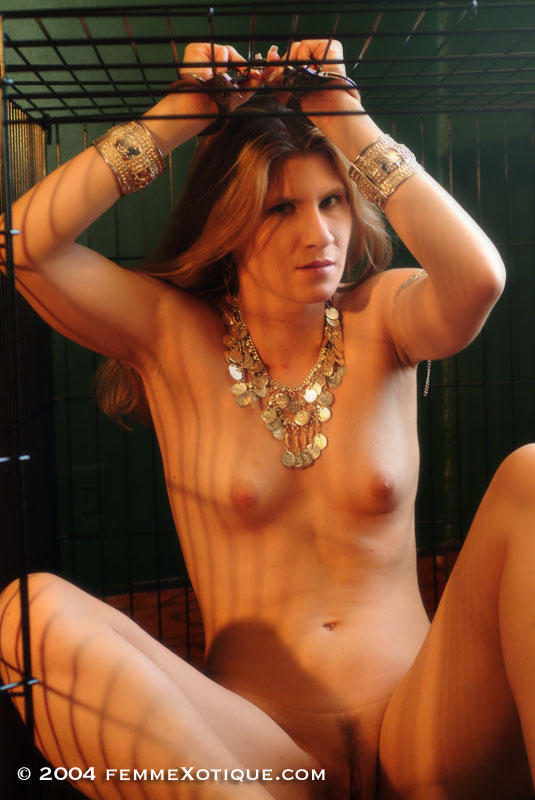 27 photos

The first time Kendra visited femmeXotique, it was for a set of art photos. Toward the end of the shoot, though, she was handcuffed to the bed so she could see if she could handle the cuffs.
Not only could she handle them, she liked it.
So, her next trip gave her the chance to be caged, cuffed, manacled, clamped, flogged, whipped, pinned and exposed for the bondage babe she is. Just to get her into the mood, we allowed her to wear her slave girl cuffs and a necklace. Into the cage she went, looking for all the world like a captive who is less than happy with her plight.
Within minutes, though, she was bound to a cross, holding the whip that was to inflict the first marks on that lovely skin. As each blow landed, she just caught her breath, hardly changing expression. Pretty soon, the little pink marks started showing up. After a bit, she was allowed to take a look. But then, it was back onto the cross, this time with her back to us. This time, a flogger gradually pinked up her back, reddening gradually as more and more blows rained down onto her. She retained a quiet resolve throughout, even though she'd never experienced anything like it before. Her breathing got ragged, though, as her back started to turn red. Not a word of complaint, but the way she gripped the chains in front of her showed that she was beginning to understand what the word "submit" really means.
After recording the results of the punishment, it was time to turn her around again. This round, she got to feel the pinch of clothespins.
The decoration on her side left some pretty pink marks that persisted even as we added those same clothespins to her outer lips.
Pretty soon, she was standing naked and bound, with marks all over her body and clothespins protruding from her crotch.
© femmeXotique.com
All rights reserved.