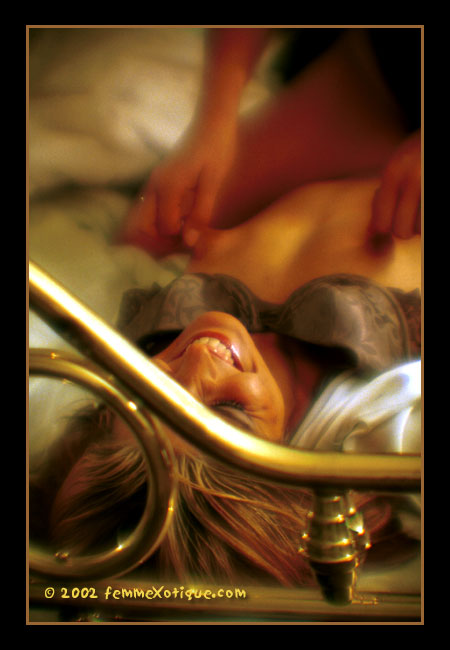 22 photos

Sasha and Le'Ann were new to the fetish scene. Except for the night before, Sasha had never been tied up or dominated. (That's another story. But we'll get to that later.) She certainly had never been dommed by a woman. So, when Le'Ann showed up at Sasha's Victorian flat, it was obvious the time had come. By the amber glow from the antique fixtures, the domination began.
The girls were curious. So, we started soft, with scarves to tie Sasha to her huge brass bed. Le'Ann climbed on top, squeezing Sasha's pretty little breasts, yanking on the nipples hard enough to bring a grimace to Sasha's face. As she rode Sasha's torso, Le'Ann just naturally slid lower, exposing those side-tie panties. Now, she'd have a chance to see what her friend had to offer. But Le'Ann understands the need for a long, tender tease. So, she just untied one side and started pulling the panties up against Sasha's tender clit.
Now, Sasha was writhing on the bed, her hands still tied to the footboard. With Le'Ann straddling her thighs, there simply wasn't a thing Sasha could do but moan. After Le'Ann finally pulled the panties off of Sasha, she lifted them to her face, inhaled the scent of her friend, and dangled them from her teeth. But the best of this scene was yet to come.
Sasha thought it was funny when we decided to use her now-fragrant panties as a gag. It wasn't nearly as funny as Le'Ann stuffed the damp panties into Sasha's mouth and held her hand over Sasha's face, so she couldn't spit them out. Le'Ann, of course, was just learning the "ropes" of domination, so she politely thanked Sasha for the fun with a kiss on the forehead. Of course, the fun was just beginning.
©2002 femmeXotique.com
All rights reserved.