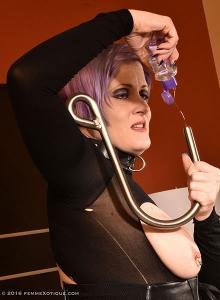 38 photos
How do you not like a sub who'll take it up the ass ... on order?
That's our girl Maddy, who was handed the hook, a container of lube and set to work. She squeezed the biggest hook we have up that ass, wincing and squirming. But she got it done. Then, we roped that thing in tight. Throughout the shoot, you'll see her barely contained panic at how that thing was roughing up her asshole. Yet she persevered.
What could be better than a girl with a hook in her ass? How about one who'll play with her pussy for you at the same time? Or one who'll let you rope her arms behind her head and to the hook? That magnified the pain as we had her assume various positions.
Ironically, it was the relatively mild clamps we used on her pussy that sent her over the edge.
Oh, well. Guess you never know what is going to set off those lovely reactions to stimuli.