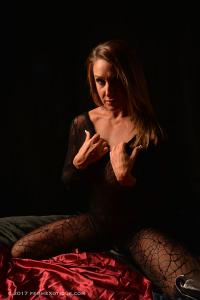 26 photos
Jackie isn't usually into fetish, but when she is into it, she makes quite a showing.
This time, she donned a spiderweb body stocking and jumped right into things with her pussy belled. That started her gape, for which she is definitely well known.
Her next excursion was with the wheel. Once she got used to it on her face, she was instructed to use it on her pussy. Now that was an experience for her. Those tiny needles first on her outer lips, then the inner ... and finally right across her clit ... gave her sensations like she'd never had before.
She, of course, had to finish herself off, so we had her do a strip tease and then play with herself until she was satisfied.
Ah, another convert?