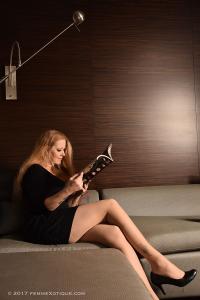 29 photos
Kristyna Dark came to Tucson awhile back for a day of intensity. She got it, but her ass didn't show it. Bummer.
So, when I hit the road recently, she kindly volunteered to make up for the mishap. And this time, her ass definitely showed her true colors.
You know you're dealing with a woman who's comfortable with what's coming when she's just sitting, awaiting her punishment while perusing a book. Her long legs invited inspection, but it was what they led to that needed more attention.
Rather than bother with a strip tease or any of the normal preparations, this time I simply bent her over, applied handcuffs with chain and then pulled up the skirt and pulled down the pantyhose. All that mattered was her ass (and later her pussy). This did throw her a bit off her game, though. Which was nice. She was almost comical in her expressions as we went through the preparations for her beating.
From the first stroke, which brought a serious intake of breath and a small "Oooh" from her, it was clear she was loving the feeling of first a nasty little crop and then a cane on her cheeks. The growing welts and reddening marks provided the punctuation I had wanted during the earlier session. (It turns out an herbal supplement she had been taking kept the inflammatory reactions from happening that we're used to seeing when leather or wood meets flesh.)
As a reward of sorts, I jammed a new glass dildo in her pussy and then gave her some more punishment with the cane.
This all left her plenty sore. Luckily, she only had about an hour to drive thsi time, but she admitted later she had some problems navigating because she was continually shifting on the seat, trying to keep the most tender places from getting too much pressure.
Now that we know she still marks up well, who knows what's next?