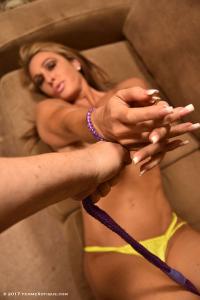 20 photos
... But she's still a sucker for rope and exhibitionism.
That's a lovely combination. I could really get used to having this lady around. Every time she shows up we push her into some new territory, and she goes willingly. All you have to do is watch her expressions during this shoot.
The new location works fine with her tanned, lean, taut body. The skylights accentuate her angles and curves. Oh, yeah, and she loves showing off those lucious lower lips of hers.
Jackie Irish, we'll tie you up anytime. And then have a little fun.