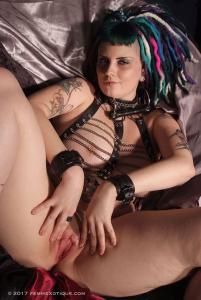 31 photos
Scarlite Marie was one of my faves back in Ohio. She had this amazing body, tremendous sense of herself ... and a wicked enjoyment of all things wicked.
No wonder we got along so well.
This time, she learns the smooth, slippery hardness of well-oiled glass as it slides in and out of her body. The young lady simply couldn't contain herself at times and burst into these wide grins as she felt the big, hard glass invading her pussy. it's such a lovely thing to see a lady wrapped in leather and chain, shackled by a padlock, and grinning in enjoyment.
Wherever you are, Scarlite, we'd love to have you back.