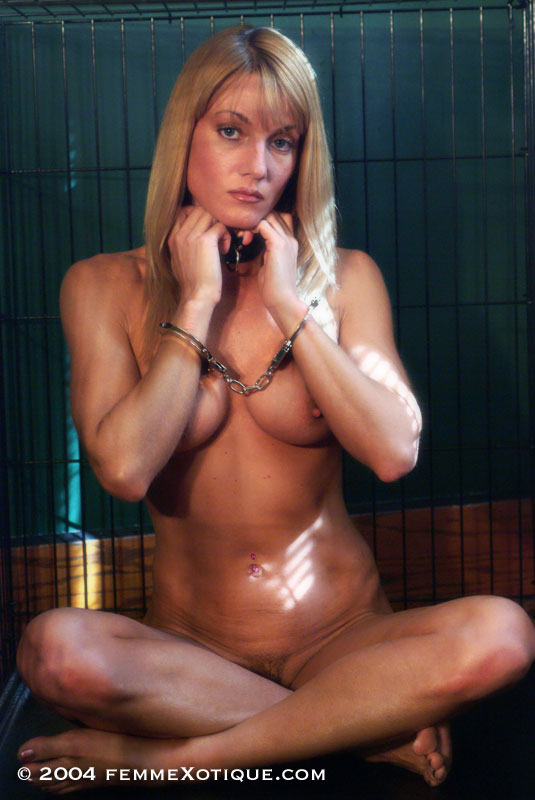 22 photos

Traci Tropics, a lovely little blonde from up in Ontario wanted some pretty pictures for her site. Sure, no problem! For us!

Little did she realize what she was getting into. Sure, we did the pretty pictures she wanted. But then, she had to pay. This is her down-payment.
First, she's left alone in the cage for awhile, so she can think about her fate. It gradually dawns on her when the photos start that this isn't a joke.
She's really going to have to go through with this. So, she starts off playing to the camera, expecting a few pictures of her in this predicament and then it'll be over. Not so fast, little lady! You've got a debt to pay.
So she comes to terms with her plight, even licking the cuffs that keep her from escaping. Finally, she's let out of the cage, only to be hung from the cross. From that vantage point, it's clear that her shoulders are nearly stretched out of their sockets. But not a word of complaint from our now-compliant Traci.
She's turning into a real trouper. So, she gets a taste of the scissor nipple clamps. No bad. How about two sets? She can handle it.
Soon, we have her stretched, with a forceps-style clamp dangling from her nipple. She holds the other in her teeth. It's clear from her expression that she's none too sure if she's ready for more. But more, a lot more, is what she gets.
We got a deal on these heavy-duty clamps. Seems most gals just aren't up to them. But Traci could handle it.
Finally, the weights were attached, and she had the task of holding the chain in her teeth. One slip, and those clamps would be ripped from her nipples as those weights headed toward the floor.
Afterward, she would say that all she could think about was "don't drop the chain, don't drop the chain."
That's no surprise. After all, you can see the fear of failure written in her face.
© femmeXotique.com All rights reserved.