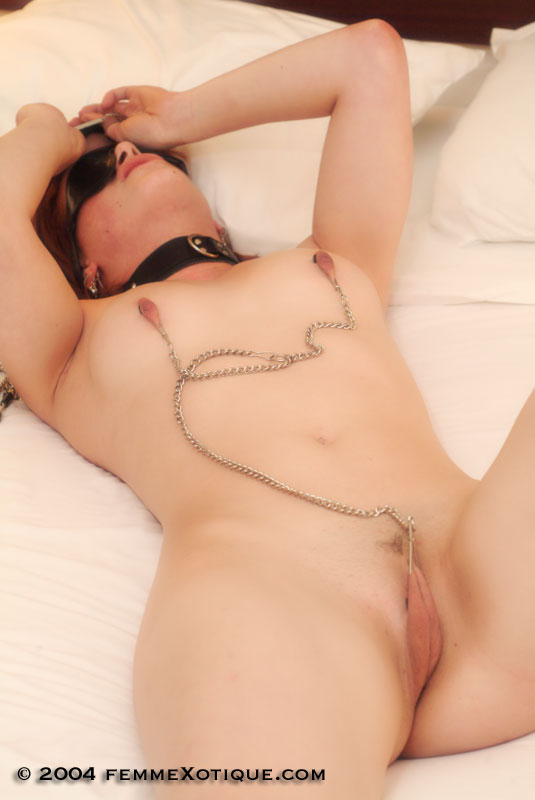 32 photos

Estelle thought she knew the drill. As a veteran submissive model, she would go to the shoot, be tied up, maybe take a little XXXX or other abuse, and then she'd leave. No big deal.
After a little discussion with her, though, it became obvious she yearned for more. She remembered the times when those bondage games got to her, excited her, aroused her in ways that nothing else could.
So, she decided to go on an adventure. She would be in total submission for several days. Her every activity would be monitored. She'd be used, abused and treated like the little slave she longed to be.
This set of photos is her introduction to femmeXotique's brand of sensual slavery. The little thumb cuffs drove her nuts, because such a little item could impede her movement so much. When she struggled against them, they were applied even more tightly.
She was tested lightly that first night. But it was clear that her mind was in the right place.
First, a series of clamps. First, to the nipples. No complaints. OK, let's loosen the screws and let them really bite. Her reaction? A sharp, indrawn breath. Then, silence, although her face did begin to flush.
Maybe she needed a little attention lower down? Certainly clamping her shut would get her attention. And it did. She wriggled about until ordered to lie still and spread. In fact, she spread so far that the clamp started slipping. Silly girl.
Time for tighter, more strict discipline of those lower lips. A little while with the tight clamps, still at the setting that drew a gasp on her nipples, got her attention.
Then, a bunch of scissor clamps allowed a nice view, especially when she was ordered to hold the chains up out of the way. She did just fine with this, as her inner lips involuntarily began to open even though there were clamps around her clit. How could that be? She got so wet that the clamps started slipping.
Naughty, naughty.
Time for a little XXXX, my dear.
So, she rolled over to accept some punishment for getting too excited. A few brisk belts with the flogger got her attention. As she was ordered to open wider and present her crotch, she did it, but whimpered "Not my pussy, please, not my pussy." Just this once, since we were just getting acquainted, she (almost) got her wish. Only a few strokes delved that soft pink flesh, the rest landing on her flanks.
Pink, it turns out, is a lovely color on Estelle.
So, after a bit, we got her up and against the wall, where her front was pinked up a little.
But not too much. There are two days remaining in her ordeal. Don't want to use up the poor girl.
So, here, show us those cuffs one more time before we leave. Oh, didn't we tell you?
You don't get to keep your clothes. Be sure to stay put. So, Estelle was left, naked, to XXXX in the bed where she'd been punished, to await the morning's ordeal.
© femmeXotique.com All rights reserved.