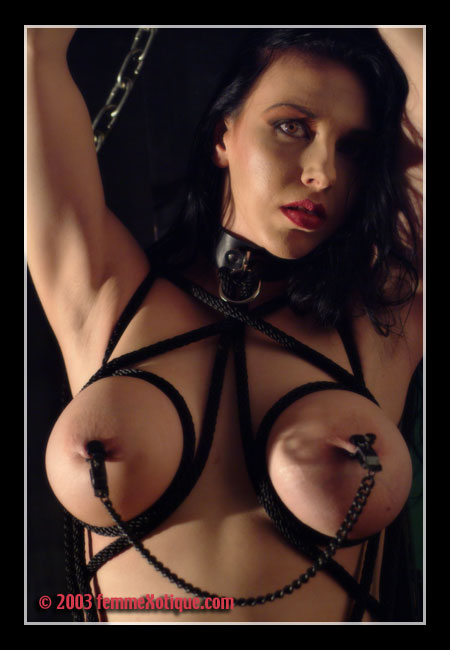 37 photos

One Sunday evening, Syn Devil found her way to the old stone house where femmeXotique carries out its mission.
She was here only for a few hours, so they had to be good hours.
Given her dark hair and wonderful pale complexion, it was easy to see that this bionic babe was going to be fun. When she submitted to ropes tying those oversize breasts as tight as she could stand, it was clear she was in it for the drama and the intensity of a bondage shoot.
Between sets, she would take out her aggressions on chairs, anything she could reach. She picked up a cane and whacked a black-and-chrome stool so hard I thought both would crack.
But seconds later, I had her chained again, accepting a new level of insult to her body. A walking contradiction, Syn Devil is a delight to photograph.
Of course, when we gave her a dose of gags, pins, ropes, chains, clamps and many other bondage implements back-to-back-to-back, there's no surprise that Syn found her limits pretty quickly. A particularly tight crotch rope during the rope "corset" trick, the angle of her hands tied behind her back and hoisted as she straddled a bar, even the pins attached to her pubic area. They all finally got to her. At one point, she was in a relatively easy position, with the white bar behind her back. Within minutes, though, she found how difficult it was to balance when her feet were together and her hands attached above her head, out of the way.
Syn is a veteran Goth, bondage and pinup model. So, she knew when we finished that we'd done well. Who knows? She just might make that long, long trek for another taste of life at the femmeXotique domain.
© femmeXotique.com All rights reserved.