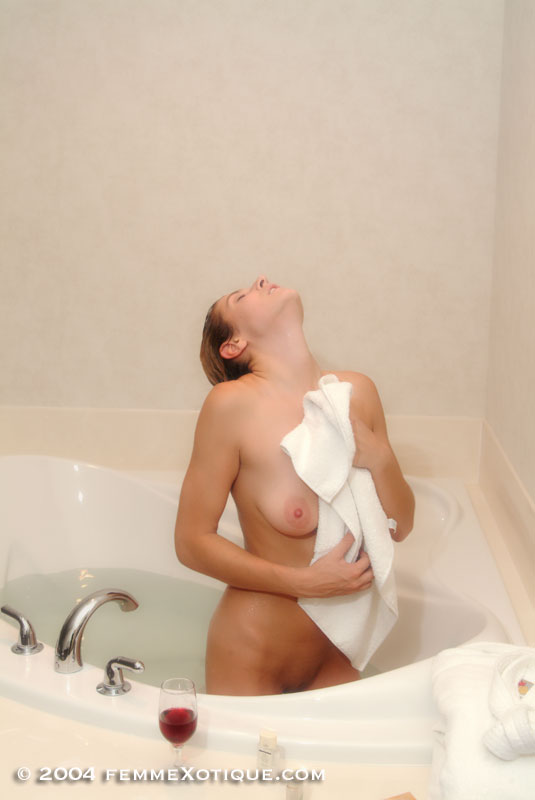 30 photos

During a visit with Christine Phillips up near Toronto, she kept eyeing the room's whirlpool. Ever alert, we finally made the offer: You can use that, but we get to take pictures. "Deal."
So, that afternoon we went to get groceries. She wanted a sweet wine. Done. Some fruit to eat. Done. Finally, she got her chance, crawling into the tub, a little shocked that she had agreed to this. Her model profile specifically said "No nudes." As if we cared at the moment.
Here was this leggy model, all 5-10 of her, folding into the tub. She enjoyed the warmth of the bubble bath for awhile, relaxing the kinks out of her muscles from trudging through the sand when we shot at the beach.
She eventually decided to try out the water jets, which came as a bit of a surprise, because a few hit her in unexpected, tender places.
After the water massage, she settled in to sip a little wine, decadently consume some of the cherries and generally relax. But even somebody who wanted the warmth so much could handle it forever.
So, she sat on the side while we cooled down the water for a final round of relaxing shots. As she eased her way back into the now-warm (not hot) water, she sighed. Her hands began to roam. (Better keep quiet.)
For a few, exquisite moments Christine seemed not to care that a camera was capturing her every movement. Then, she came to her senses, wrapped her head in a towel and then applied lotion to her now-parched skin. It isn't often you get to capture a lovely woman's intimate tub moments.
Sometimes, paying for that luxury room is worth it!
© femmeXotique.com All rights reserved.