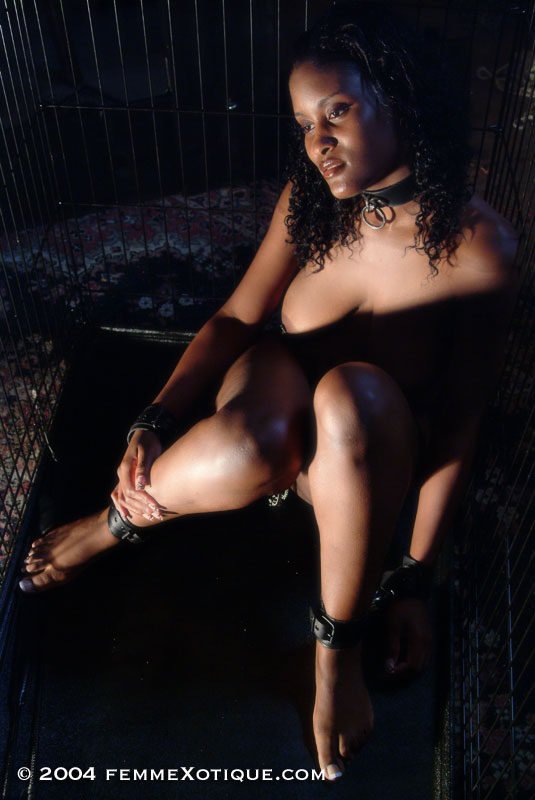 25 photos

Jo-Leann is a lovely little African-American (isn't that so PC?) lady who used to live in the neighborhood. She has since moved to a nearby town, but her fascination with what goes on with femmeXotique only grew.
She finished school, she got a job. But she had not experienced a full-blown fetish shoot.
One day, she got up the nerve. She stripped down and offered herself for use.
We had a long, long talk about her thoughts. She knows she'll be considered a slave. She knows that may not suit some people. But she says she's so confident in her sexuality that she'll deal with the labels. She just wants the experiences.
Since this was a first for her, we started off slowly. The cage seemed a perfect location. Bound with cuffs locked together, she could hardly squirm around in the black cage, a harsh halogen light blasting into her eyes.
Nipple clamps were new to her, not to mention the one placed on her delicate inner lips. She moved the small amount she was able to help with the application of devices. Some tight spring clamps, other scissor types. Nothing fazed the lady.
After awhile, her arms and legs began to tingle and remind her of her inescapable position. You can see the mood swings in her face.
She's pensive one moment, amused the next. Ultimately, though, she gave in to the fact that she was going nowhere until somebody unlocked her cuffs and let her out of the cage.
Not only did she enjoy it, she was obviously eager for more. You'll get to see some from our next encounter soon.
© femmeXotique.com All rights reserved.