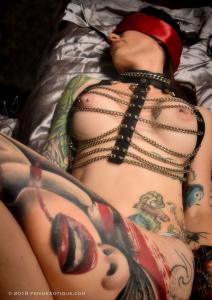 30 photos
Kaylee Renee strutted into the studio with a body covered in tats, and little else. One thing that was obscured, though, until we removed that skirt was her love of bondage. She craves it so much that she has images of submissive women permanently added to her body.
So, this set is an exploration of her kinks, as shown on her skin, along with some leather, chains and a special silk blindfold to represent her tats.
We couldn't leave out some exposure of private parts and close-up work of the metal she wears in her nipples. What would a shoot be without exposing more than the sub thinks is OK?
Well, she must have enjoyed it enough ... to book another shoot, where she's been guaranteed a harder time.